Is this a Good Time to Buy a House in Miami or Should I Wait? Interest rates are rising like crazy. We all knew it was coming, but what does it mean for the real estate market and your ability to buy or sell a home. Rates are expected to keep rising as we continue through the year. I break it down for you so you could better understand who can still buy a Home on today's market, and who could wait for the market to breakdown!
Is this a Good Time to Buy a House in Miami or Should I Wait? (Video: Trailer)
Interest Rates are Hiking
We started 2022 with mortgage rates at about 3.11% for a 30-fixed loan according to Freddie Mac. As the year has gone on, the most recent data from Freddie Mac shows that rates have risen to 5.78%. Freddie Mac actually addresses this rise in rates by stating,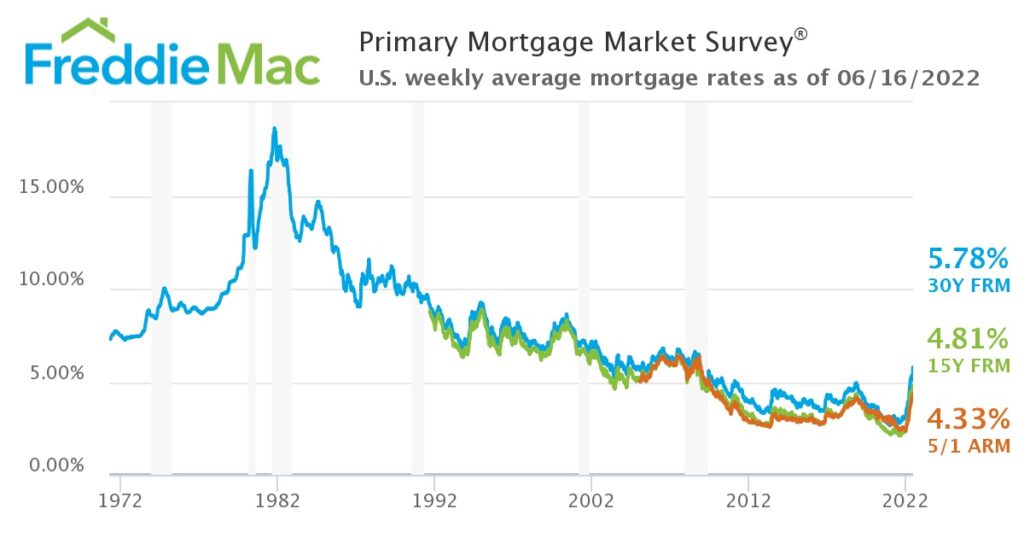 "These higher rates are the result of a shift in expectations about inflation and the course of monetary policy. Higher mortgage rates will lead to moderation from the blistering pace of housing activity that we have experienced coming out of the pandemic, ultimately resulting in a more balanced housing market"
Additionally, the Federal Reserve will continue increasing interest throughout the end of 2023.  Chairman Jerome Powell  said last week, "meeting by meeting"  and they "forecast a more accelerated pace of rate hikes this year and next than they had predicted three months ago"
Higher interest make mortgage loans more expensive. It means you need to pay more for every dollar during the lifetime of the loan.
Should I buy a house now?
Should I buy a house now? That's the question potential buyers are struggling with. Some buyers have been leaning toward the "waiting for prices to come down". According to Fannie Mae's Home Purchase Sentiment Index  , a survey measuring consumers, approximately 75 percent of consumers believe that right now it is a bad time to buy a home.
Without a doubt, the market is showing signs of shifting. Now, if you are using a mortgage loan, as I mentioned earlier buying now may still turn out to be a wise decision in the long run. 
The market requires time to  come back to affordability levels and this could be a long process. Inventory levels need to raise at least 3 times or even more than what we have right now, and that usually takes time.
Having money parked at the bank is costing you 8.5%, according to official numbers. Inflation numbers on the real economy out there is soaring prices, and our purchasing power is reducing much more than just 8.5%. The gas at pump is 2.5 x more expensive, and food is 3+ x more expensive at the local supermarket.
As long as, interest rates are below the inflation rate, it is a good time to get a 30 year fixed rate. 
Right now the financial system has liquidity. But as The Federal Reserve  continues with QT or Quantitative Tightening ,liquidity will be affected and mortgage conditions might change. Housing prices are going to drop and be more affordable but  getting a mortgage approval might be much harder and at a much higher interest rate.
Now, the real option for you  comes down to your finances, the conditions of the loan and your priorities. Remember ownership is a longterm investment that you can renegotiate.
If you buy now, you can start building equity immediately. That's true no matter which way the real estate market is leaning at the time. Purchasing a home is a longterm investment and buying now means avoiding higher interests.
If you can answer these 3 questions favorably, you are more than ready to buy a home.
Do you have excellent credit? The best mortgage deals are available to those with credit scores of 740 and above.
Have you saved enough for a down payment and extra cash reserves for safety cushion?

Are you planning to live and keep the home for many years. The first few years you need let the property appreciate while you recuperate the closing cost and amortize your loan. 

As long as you understand you are safeguarding your wealth or hedging against inflation.
Should I wait for home prices to come down?
75 percent of consumers believe that right now is a bad time to buy a home. Waiting for home prices decline can be a challenge.  The Miami housing market inventory levels are so low,  that only a very large number of homes coming into the market could actually produce real price reductions. 
Before getting to the point, it is important to quickly go through the Miami Rental Market and Foreclosures
Rental and Foreclosure Effects on the Real Estate Market
Miami realestate biggest trigger is on the rentals. Rentals have increased to a historic record of 30-40%. 
During the last two years rental market got completely distorted. Three of the biggest contributor to this distortion is the American Rescue Plan implemented during lockdowns. 
These measures helped thousand of people but they interfered with the normal flow of the rental and the for sale housing market. They contributed to the lack of inventory and created an additional demand that pushed prices upward.
The Foreclosures in Miami have increased but they are not at level that the market actually needs to produce significant price reduction. According to Attom a data firm specialized in real estate, Miami is having one foreclosure for every 2,432 housing units. And the properties foreclosed are absorbed immediately by the demand. 
When can I wait to buy a home?
Here are the only possible times "waiting" is a good solution
If inventory in your area increases sufficiently to turn the market around. You should be in contact with your real estate expert to keep up with market condition in your area.

Your credit score is not at best. You need time to restructure your finances. 

You are a Cash Buyer and you want to buy without a mortgage loan.

You prefer to buy when homes are more affordable, you don't mind higher interest rate.

If you are an investor looking specifically for an income property. The prices and rates are not the best right now. Yes, rents are at all time high, profitability looks very good.  It is important to understand that today the investment looks great, but as we are in the middle of monetary changes  It is wiser to wait a little and see the effects of the measures the Feds are taking, before investing.  
Is it a Good Time to Buy a Home in Miami or Should I Wait?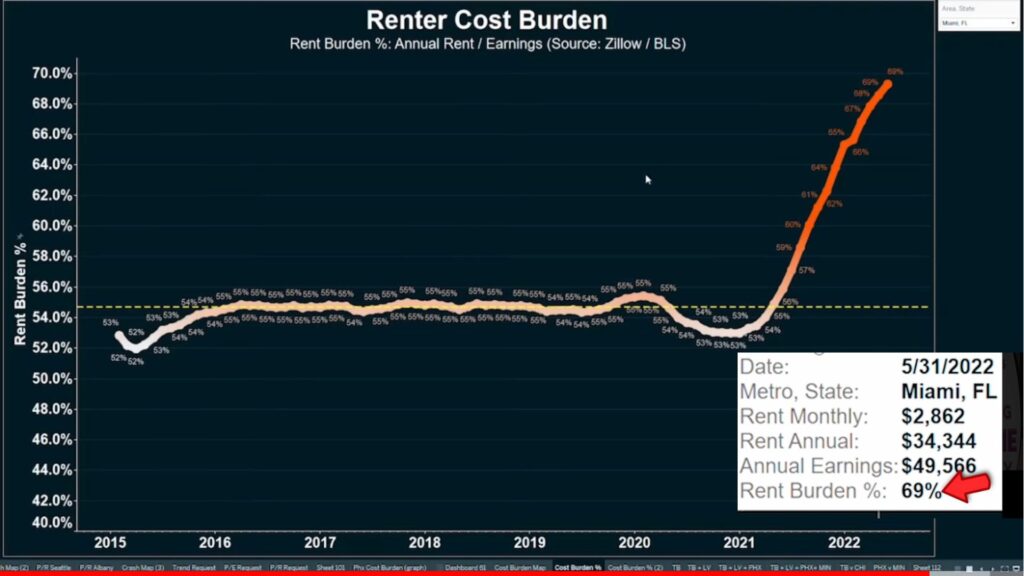 Miami-dade is one of the market with the fewest number of homes for sale across the nation. The May's inventory Increase/Decrease by County YoY by Realtor.com is showing a -39% inventory. Let's see what says the June report.
A few submarkets are showing better signs with an slight increase of inventory, but just not enough inventory to shift the market to subtantial price reductions. Now if you are buying a home you are moving into and plan to have it for a longtime, everything I mentioned above applies to Miami market. 
The triggger is in the Rental vs Local earnings, in the above graph, you can see Miami median monthly rental is at $2,862, an annual rental of $34,344. But median annual income is of $49,566 , rent is representing 69% of household income. 
It is true that there is an area of Miami that has benefitted from the outerstate and foreign influx, specifically the luxury market. The luxury product is a different market and a different type of investment. The problem with the rental increase is across the city and it has reached an unsustainable level for the local earning wages. (Data: Zillow/Bureau Labor Statistics) 
Prices are going to come down. A timing for the market to experience important reductions is very hard predict.  Too many variables need to meet and they are not there, yet on the market.
Work with an expert agent that keeps you updated
Today there is so much information out there, that it's extremely important to have a real estate agent who understand the market you are interested in, that values his clients and that can help you navigate this market time. 
If you have any concerns or like any information about your market, contact me, I'll be glad to help you with your housing needs. Remember "Much of our successes get lost for the lack of a little more". 
DISCLAIMER: This Blog content and video content is intended only for informational, educational, and entertainment purposes. Neither Whykeybiscayne nor Beatrice Ponce is a registered financial advisor.  Your use of Whykeybiscayne & YouTube channel and your reliance on any information on the channel is solely at your own risk. Moreover, the use of the Internet (including, but not limited to, YouTube, E-Mail, and Instagram) for communications with Whykeybiscayne does not establish a formal business relationship..