Real Estate review and summary of Key Biscayne Realty
 I take the opportunity to review and summarize the real estate market in Key Biscayne, 2019 comes to an end.
As I mentioned previously in another post, Key Biscayne has been one of the latest markets to correct its pricing in the Miami-dade area. During 2017 to 2018 real estate in Key Biscayne suffered due to different market and economic factors. The dollar appreciation, the Latinoamerican crisis on key buyer markets and the need to attract newer markets have been among the main reasons.
 A quick summary of Key Biscayne Real Estate Sales for 2019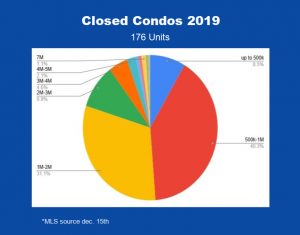 Condo/apartment there were 177 units sold units during 2019.  80 units or 45.5 % closed between the ranges of $500K-$1M, 39 units or 22.2% of closed sales between $1M-$2M and 34 or 19.2% units closed sales up to $500K.
As pricing started correcting new market buyers started to be receptive and sales activated on certain ranges when compared to the 2018/17 period.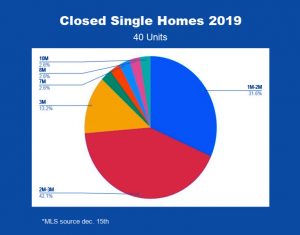 Forty homes in total were sold during 2019, 17 units or 42.5% of the closed homes were in the range of $2M-$3M, 11 units or 27.5% in the ranges of $1M-$2M, 5 units or 12.5% in the ranges of 3M, and 1 unit on each of the other ranges shown on the chart.
Buyers showed greater interest in the ranges from $2M-$3M homes. Most of these single-family homes have been partially or completely remodeled as well as some have also been elevated.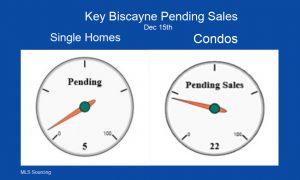 As of Dec 15th, 2019, two hundred sixteen (216) properties were sold and twenty-seven were pending.
Forecast for Key Biscayne Real Estate for 2020 
Key Biscayne starts the year 2020 with 411 properties for sale.
One hundred and twenty-two (122) single homes are active. Some of the ranges have been correcting its pricing during 2019 and some property owners preferred renting and others decided to keep their property for the time being.
I have set aside the luxury homes higher of $7M, twenty-five homes that fall under this range. These exclusives Homes fall under this category and need to be treated in a custom one to one basis, therefore they are not included in the absorption rate.
The absorption rate continues indicating a buyers market within the different ranges from $0-7M, twenty-six (26) month supply inventory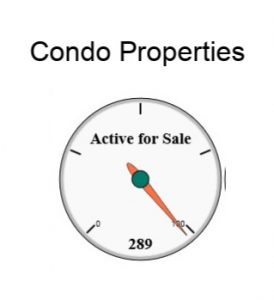 Two hundred and eight-nine active condo/apartments are active for sale.
The condo market has also been correcting its pricing on some ranges as well as on some buildings.
Six luxury condos with a starting value of $7M are not been included in this analysis. These exclusive condos same as singles homes are not included, as they fall into a custom one to one analysis.
The absorption rate indicates a buyers market with a nineteen (19) month supply inventory.
As of Dec 15th, 2019.
What to expect during 2020
During 2019 lots of properties started correcting its pricing. And, the new lending interests did not cause a major effect as expected. At the same time, I have overheard many property owners' frustration regarding the decrease in their home value and their reluctance to correct their prices. It is important to understand that real estate is ruled by an offer and demand market that is continuously affected by many economic factors, that do not affect one particular area but entire economic markets. The fastest that the market corrects its pricing the fastest the market rebounds holding overprice properties in the market delays the process and drives buyers to more attractive markets.
During 2020 properties will continue correcting its pricings in those specific ranges that need more adjustments to become attractive to the new buyers coming to the area. Hopefully, this would lead to a better absorption rate thus accelerating the days on the market the properties would tend to sell faster.
Meet my Blog WhyKeyBiscayne a community to Showcase the quality of life of KeyBiscayne, Real Estate opportunity , Designers solutions & small enterpreneurs