Christmas treats ideas, are you looking for something to add to your menu for Christmas or Holiday celebrations or forgot to get something to bring with you to the holding-party. Today I have gathered a few choices for these last-minute treats.
I know how the Holidays can be so overwhelming with gift shopping, decorations, family visiting, and the menu plus dinner time. Even if you celebrated within the privacy of your family we all want to throw the best party to our loved ones.
Christmas Treats Ideas
La Trufa Gourmet Appetizers
One of a kind appetizers or first-course meal from @laTrufaGourmet , a full catering service all year round servicing Key Biscayne and neighboring cities around Miami.
For this year they are offering a great variety form tuna tataki, salmon tartar, ceviche, Thai rolls, arugula salad and tuna over Mexican tostaditas.
Casabe
Caribbean Yucca flatbread. A great option to substitute bread or canapes crakers. Yucca can be buttered and toasted with garlic-herbs or served as Mexican tostadas. An ideal gluten-free food. Contact @yukasabe
Hallacas Orlando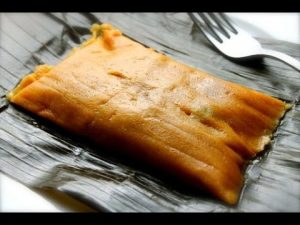 Traditional Venezuelan tamal made out of layered cornmeal garnished with cooked meat and chicken stew, olive, raisin, almond, and others, then folded and wrapped with a plantain leaf.
It is served as an entree dish and usually only made during the month of December. Orlando's Hallacas contact (786)3915844 or (305)5463791
Pan De Jamon
Traditional Venezuela bread for Christmas dinner.
Bread dough roll with ham, olives, and raisins. It is served with the traditional Hallacas, chicken salad, hallacas , turkey and pork!
Check it @tinybites
Coquito
Famous Puerto-Rican eggnog made with coconut milk, cinnamon, and other ingredients. Traditionally offered during the Christmas season. Contact (786)4022074
                             Table of Sweets of Miami
Delicious Cuban Rum cake @tableofsweetmiami made out with an authentic recipe. It comes in two flavors Rum & Coke or Peppermint Mocha.
Do not miss out on Santa's Cookie Box!
Enjoy our Christmas Treats Ideas! and have Happy Holidays!
Meet my Blog WhyKeyBiscayne a community to Showcase the quality of life of KeyBiscayne, Real Estate opportunity , Designers solutions & small enterpreneurs